《TAIPEI TIMES 焦點》 Groups protest curriculum changes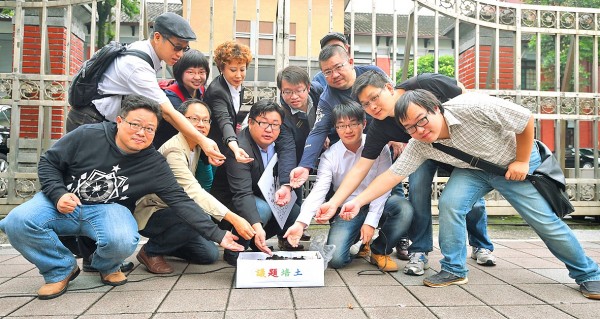 New Power Party legislative hopeful Hu Po-yen, center, and his supporters yesterday plant seeds in a flowerpot in front of the Legislative Yuan during a news conference to criticize the government's adjustments of the high-school curriculum guidelines. Photo: Wang Min-wei, Taipei Times
2015/05/07 03:00
By Alison Hsiao / Staff reporter
A group of authors and professors of literature yesterday gathered outside the Legislative Yuan in Taipei to protest against the new high-school Chinese language curriculum which reincorporates a high percentage of classical Chinese material while neglecting Taiwanese and contemporary literature.
Na Su-phok (藍士博), one of the founders of the Alliance of the Young Safeguarding Taiwanese Literature and History, said that while concerns have been raised against the adjustments made to the history and civil education curriculum guidelines, there have been relatively few objections made public against the adjusted curriculum for Mandarin Chinese-language study.
However, that does not mean that the adjusted Chinese-language curriculum is problem-free, Na said.
"On the contrary, the problem is serious to the point that [the curriculum] is in the intensive care unit," Na said.
Chu Yu-hsun (朱宥勳), a young author of several books and editor of anthologies of contemporary Taiwanese fiction and essays, said that the percentage of classical Chinese has been raised from 55 percent to 65 percent, with less flexibility.
What is more, according to Chu, a subject called "Chinese culture basic materials" has been singularly highlighted in the new guidelines, which suggests that is to be set up as an elective.
Classical Chinese literature is set to take up 72 percent of the allocated learning hours for Chinese-language study, Chu said.
He opposed the arrangement, saying that the curriculum should be designed to introduce young students to literature "from recent to ancient times and from easily accessible texts to works that require further interpretation."
Earlier this week, another group of academics also drew attention to the new Chinese-language curriculum.
Referring to themselves as the Alliance for Saving the Education of Chinese Language, the group campaigned for even more class hours for Mandarin Chinese and the adaptation of "Chinese culture basic materials" as a required course.
The alliance, led by National Taiwan University political science professor Chang Ya-chung (張亞中), who is also the chairman of the pro-unification Chinese Integration Association, has said that younger generations — without the cultivation of Chinese culture — have become empty, "with no identity, confidence, patience, vision, direction or viewpoint."
Chang also said that more Mandarin Chinese-language learning hours would equate to "more filial piety and sibling love."
Former Soochow University president and alliance member Liu Yuan-chun (劉源俊) said he worried that Taiwan "would become the next Philippines," if Chinese culture continued to lose its influence in public education in Taiwan.
Their comments have since been widely ridiculed and criticized as a "great Chinese superiority complex," and as examples of explicit racism for deeming other cultures to be less sophisticated and less worthy of respect.
新聞來源:TAIPEI TIMES