《TAIPEI TIMES》Undefeated Kings outduel Pilots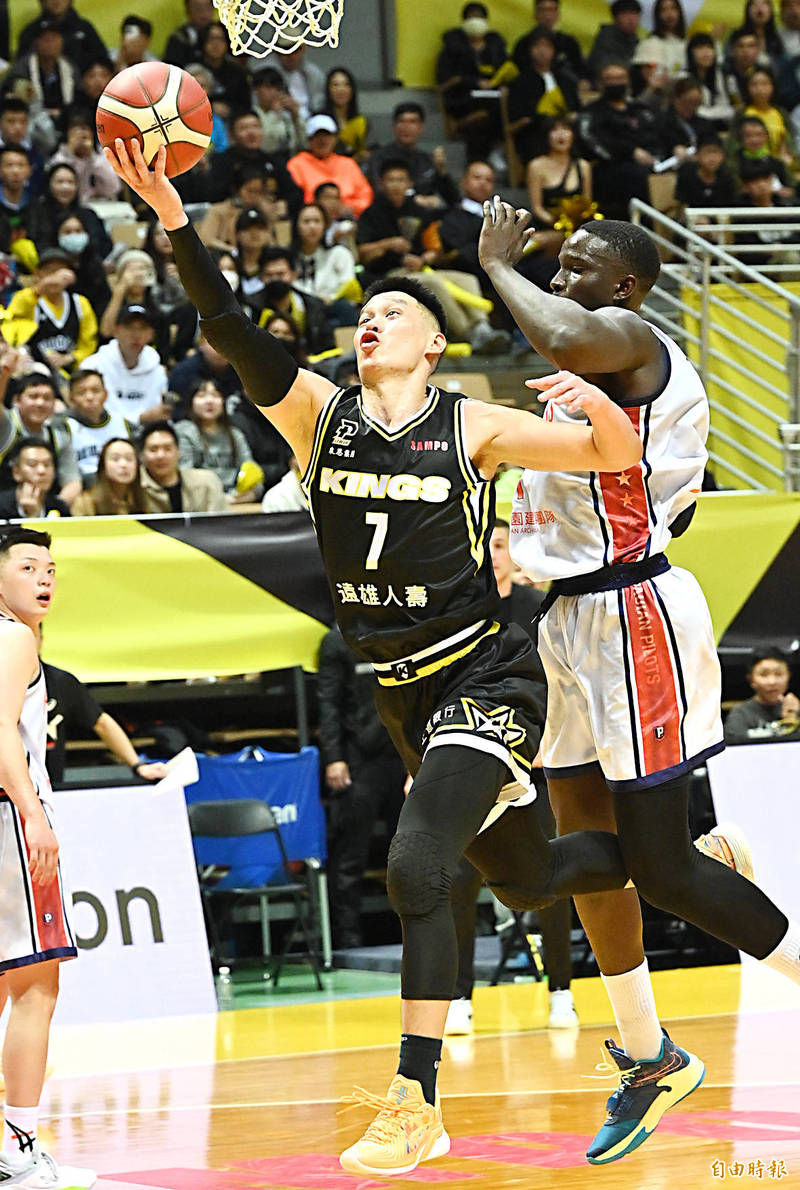 The New Taipei Kings' Jeremy Lin, left, goes in for a layup as the Taoyuan Pilots' Amdy Moustapha Dieng defends in their P.League+ game in New Taipei City on Sunday. Photo: Wang Yi-sung, Taipei Times
2023/11/21 03:00
Staff writer, with CNA
When former NBA player Jeremy Lin announced he was signing with the New Taipei Kings, he said one of his goals was to finish first in the P.League+ this season.
So far, the Kings are looking very much capable of achieving that.
They remained undefeated on Sunday after notching their third straight P.League+ victory of the season, a 123-113 home win over the Taoyuan Pilots.
Even better for the Kings, they proved that their roster is good enough to win games when the Lin brothers are not at their best or unavailable.
Jeremy Lin made five of 15 shots from the floor en route to a season-low 17 points, while his brother Joseph Lin was sidelined with an ankle injury sustained during Saturday's win over the Hsinchu JKO Lioneers.
However, Byron Mullens, with 31 points and 13 rebounds, and Lee Kai-yan, with 20 points and seven assists, picked up the slack with their best performances of the season.
The Kings trailed the Pilots for most of the first half, but remained close on their heels and were down only 62-59 at halftime. The Kings went ahead at the start of the third quarter and held onto the lead for most of the second half.
The Pilots had a chance to reduce the margin to one possession with just more than one minute to go when guard Li Chia-kang was sent to the free-throw line for two shots with the Kings up 118-113.
However, Li missed both shots, and Lee sank his fifth and last three of the night with 54.5 seconds remaining to secure the game.
"Winning three consecutive games is actually just a small goal for us, and I hope we can keep winning and even challenge the league's winning streak record," Lee said.
He said that Mullens had undergone some wear and tear and is still adjusting after returning to the Kings this off-season, but he looked forward to the American's full recovery to ensure the team gets even stronger.
Sunday's game was the Pilots' season opener.
Commentator Hu Chun-chi said the addition of Anthony Tucker and other changes had breathed new life into the team compared with what he had seen in the pre-season.
If the Pilots could fix some of the small flaws seen in the second half of their game against the Kings, they could have a good year, he said.
Tucker went six for 10 from behind the arc for a team-high 26 points, and registered six rebounds and eight assists, while Li added 14 points and four assists.
新聞來源:TAIPEI TIMES