《TAIPEI TIMES 焦點》 Ko seeks aid with Songshan airport move after ride on MRT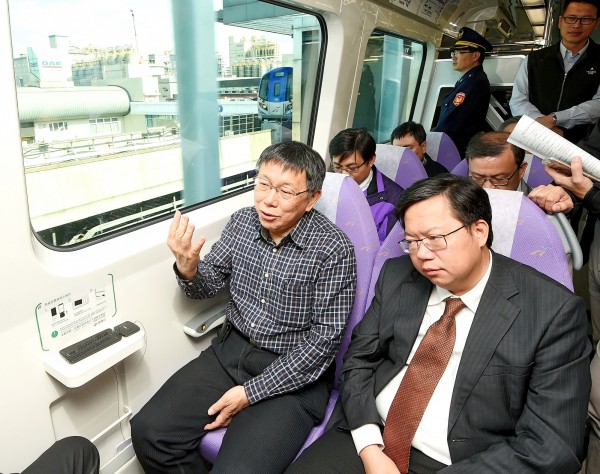 Taipei Mayor Ko Wen-je, left, and Taoyuan Mayor Cheng Wen-tsan ride the Taoyuan International Airport MRT Line from Taipei yesterday. Photo: Fang Pin-chao, Taipei Times
2017/02/16 03:00
By Sean Lin / Staff reporter
The launch of the Taiwan Taoyuan International Airport Mass Rapid Transit (MRT) line will likely affect passenger volumes at Taipei International Airport (Songshan airport), Taipei Mayor Ko Wen-je (柯文哲) said after a ride on the new line yesterday, calling on the Executive Yuan to help streamline efforts by Taipei and Taoyuan to relocate the Songshan facility.
Ko and Taoyuan Mayor Cheng Wen-tsan (鄭文燦) rode the MRT line, which opened this month on a trial basis.
Ko praised the "excellent" construction quality of the line, saying that the ride was "smooth and comfortable."
He was equally complimentary of outlets in the carriages for passengers to charge mobile devices, as well as free Wi-Fi connectivity, saying that he had instructed Taipei Rapid Transit Corp to offer free Wi-Fi services in Taipei MRT carriages by the end of the year.
The launch of the airport MRT provided an outlook on Songshan airport's future, Ko said.
Ko said that he and Cheng would ask the Executive Yuan to streamline efforts by the two municipalities to relocate Songshan airport, as the highest level of collaboration is required to complete the task.
Ko's administration has proposed a plan to merge Songshan airport with Taoyuan airport by 2020, with a central park planned to be built at the Songshan site.
Taoyuan airport's third terminal, of which construction is to begin next month, and a planned fourth terminal should be able to process the passenger volume from Songshan airport, the Ko administration said.
Ko said he was concerned about the line's terminal station next to Taipei Railway Station being overwhelmed by people using the new line.
"I believe that the A1 Station needs to be expanded," he said.
"Taoyuan airport processes about 40 million passengers every year and if quarter of them travel to Taipei, the A1 Station would be overwhelmed," Ko said.
Ko said that his estimate on passenger volume was made after factoring in airport employees and visitors to Chang Gung Memorial Hospital in Taipei.
Ko said Cheng should be commended for launching the new MRT line within his first two years in office, ending a protracted construction period of 20 years.
The line is to offer limited numbers of free rides beginning today until March 1, Taoyuan Mass Transit Corp said.
To take a free ride on the line before March 2, people can get a numbered tag at stations on the line at 7:40am, 9:40am, 11:40am or 1:40pm each day.
About 20,000 numbered tags are to be distributed at the line's 21 stations each day, with about 1,200 tags per day to be handed out at the A1 Station.
A check-in and bag-drop service for airport passengers will be available between 8am and 4pm at the A1 Station during the trial period, Taoyuan Mass Transit said.
China Airlines and EVA Air have check-in counters at the A1 Station, as will their respective subsidiaries, Mandarin Airlines and UNI Air, it said.
Taoyuan Mass Transit said it has introduced six self-service bag-drop machines at the A1 Station.
Trains on the new line are to run from 6am to 11pm when commercial operations begin.
Additional reporting by CNA
新聞來源:TAIPEI TIMES