《TAIPEI TIMES》 Families of children who died call for end to abuse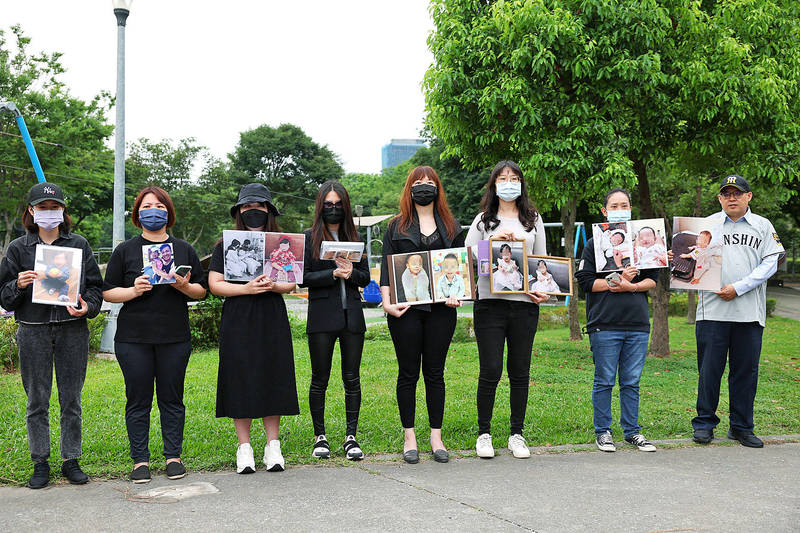 Family members of eight children who died of alleged abuse at childcare facilities or from nannies hold pictures of the children at a news conference in Taipei yesterday. Photo: CNA
2023/05/15 03:00
NEGATIVE SIDE EFFECTS: As the government tries to ramp up capacity for childcare, it has failed to properly monitor such facilities, NPP legislator Claire Wang said
By Lee I-chia / Staff reporter
The Taiwan Children's Rights Association, along with family members of eight children who died as a result of alleged abuse at childcare facilities or from nannies, yesterday called for government and public attention on child abuse.
Association founding director-general Wang Wei-chun (王薇君) told a news conference at the Huashan Grassland in Taipei's Zhongzheng District (中正) that it was the first time in her 11 years of advocating for child abuse prevention that family members — seven mothers and a father — of child abuse victims stood together to call for awareness on the issue.
Nearly 900 children died in 2021 due to traffic incidents, child abuse or negligence by parents or caregivers, Wang said.
The government must conduct a comprehensive review of the problem to prevent more deaths, she said, adding that presidential candidates should not just shout slogans to show they respect children's rights during campaigns, but should actually care for them.
"End child abuse. Let children grow up safely," the family members and association representatives chanted.
One mother said her daughter was abused by her nanny and died of bleeding within the skull after lying unconscious in an intensive care unit for 24 days.
She said that the nanny was still allowed to take care of other children after the incident.
Another mother said that a childcare provider at an infant care center had covered her daughter's head with a blanket and used her legs to hold down the child, causing her to suffocate.
Her body was discovered by another caretaker three hours later, she said.
The mother and other family members of child victims of abuse have launched a petition requesting that infant or childcare facilities and preschools be required to install more surveillance cameras, and that child abuse investigations be more transparent, she said.
Another mother said that local social affairs departments should publicize the names of childcare facilities and nannies involved in child abuse cases, and if a childcare provider or nanny are convicted of a crime, they should be barred from continuing to work in that field.
New Power Party (NPP) Chairwoman Claire Wang (王婉諭) said that the frequency of reported major child abuse cases at childcare facilities in the past few years highlights the problem of the government trying to increase childcare capacity, while failing to properly monitor the facilities, leading to many flaws that need to be fixed.
She said that many of these cases were not due to negligence, but were intentionally harmful acts committed by caretakers, such as using a blanket to cover an infant's face, using their body to press a child down or shaking an infant's head vigorously causing brain bleeding.
The incidents reflect the flaws in childcare providers' education and training, as well as the government's ineffective inspection mechanism, she said.
Claire Wang urged people to care for the mothers and fathers of abuse victims, and ensure the flaws are fixed, so that all children can grow up safely, and all mothers can feel safe celebrating Mother's Day.
新聞來源:TAIPEI TIMES