《TAIPEI TIMES》 Rapid test diagnosis coverage to widen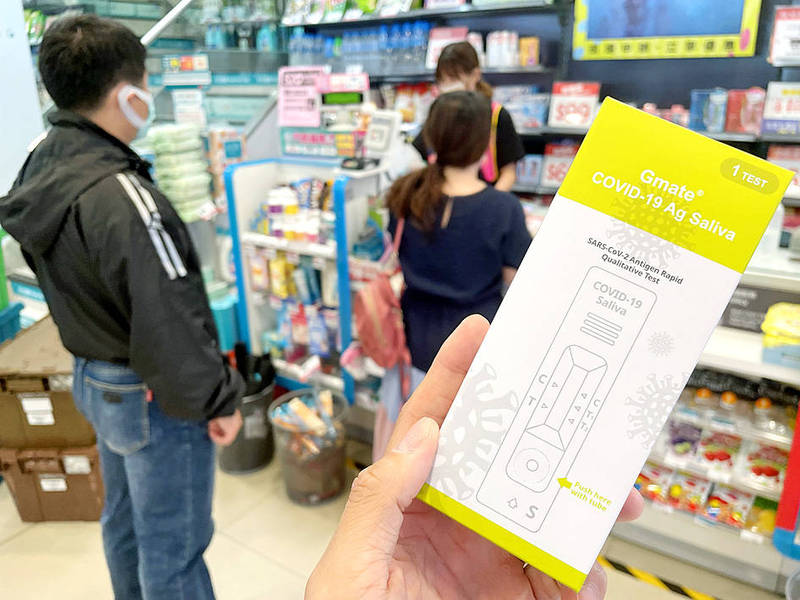 A customer holds a Gmate COVID-19 Ag Saliva rapid test kit in a Watson's store in New Taipei City's Lujhou District on Friday. Photo: CNA
2022/05/22 03:00
REMOTE AREAS: The plan is to eventually extend the policy to the entire nation, but changes need to be made along the way as needed, the minister of health said
By Lee I-chia / Staff reporter
Starting tomorrow, residents of indigenous townships and outlying islands can use a positive rapid test result that has been confirmed by a doctor for COVID-19 diagnosis, the Central Epidemic Command Center (CECC) said yesterday.
The policy could eventually be applied nationwide, the center said.
It is difficult for residents of indigenous areas and outlying areas to travel to medical centers, Centers for Disease Control Deputy Director-General Chuang Jen-hsiang (莊人祥) said, explaining the reason for the change.
The areas include 30 mountain and 20 plains indigenous townships, as well as 19 townships on outlying islands, said Chuang, who is the CECC's spokesman.
Residents of these areas who test positive with a rapid COVID-19 test can book a telemedicine appointment or visit a clinic to ask a health worker to assess their test result and report them as a confirmed case.
The policy is currently available to people aged 65 or older, long-term care facility residents and people who are undergoing home quarantine, home isolation or self-disease prevention.
The policy would continue to be expanded to eventually cover everyone, but the center needs to observe the outcomes for some time and revise it if needed, said Minister of Health and Welfare Chen Shih-chung (陳時中), who heads the center.
The number of pharmacies that are sold out of government-rationed rapid test kits has fallen, meaning that people do not need to line up early to buy them anymore, he said, citing sales data.
Pharmacies and public health centers that still sell out all their test kits would receive a one-time shipment of two boxes containing 156 packs of test kits, Chen said.
Public health centers in mountainous or remote areas as well as outlying islands without community pharmacies that have fewer than two boxes in stock would receive a one-time delivery of five boxes containing 390 packs of test kits, he said.
He advised people to call pharmacies to make sure there are test kits in stock before traveling to purchase them.
The CECC on Friday asked local health departments to report on where they can set up additional sales locations in mountainous and remote areas, and outlying islands.
Asked when a second round of the real-name-based rationing system for rapid test kits would begin, Chen said the CECC would wait until the coverage rate across the nation is higher, so the next round could be postponed to next month.
新聞來源:TAIPEI TIMES