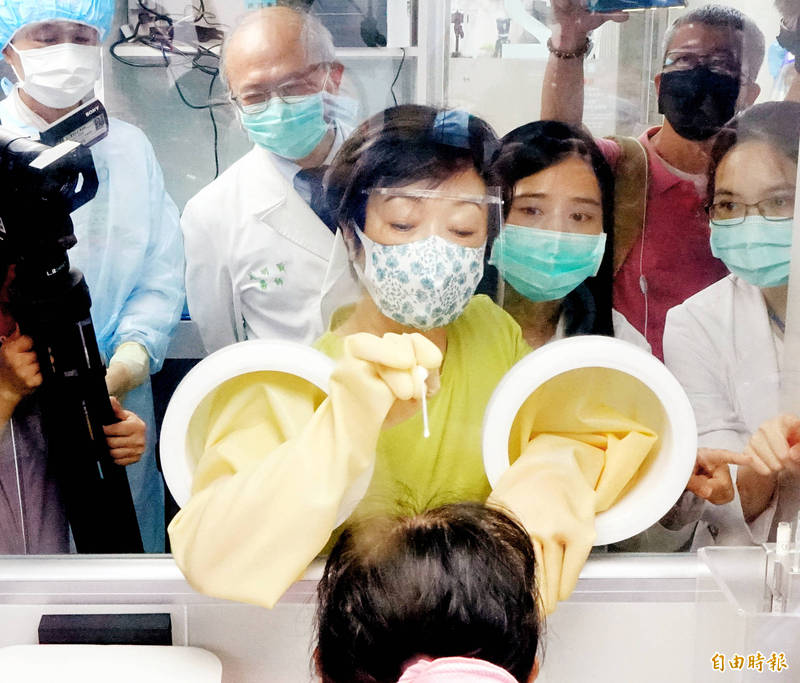 Sophie Chang, chairwoman of Taiwan Semiconductor Manufacturing Co's Education and Culture Foundation, examines the COVID-19 testing process yesterday at National Taiwan University Hospital in Taipei, after she donated a zero-contact medical station to the hospital. Photo: Chu Pei-der, Taipei Times
2021/06/25 03:00
By Sherry Hsiao and Kayleigh Madjar / Staff reporter, with staff writer
The Central Epidemic Command Center (CECC) yesterday reported 129 domestic cases of COVID-19, one imported case and six deaths.
Of the new local infections, 64 are male and 65 are female, with the onset of their symptoms occurring between June 4 and Wednesday, the center said.
Seventy-three of the cases are people who tested positive during or at the end of their home isolation or quarantine, it said.
New Taipei City again recorded the most local transmissions, with 54 cases, followed by 35 in Taipei, nine in Keelung and seven in Taoyuan, it said.
Pingtung County and Kaohsiung reported six cases each, Miaoli and Hsinchu counties each had five cases, and Nantou County had two.
The six deaths were five men and one woman aged in their 50s to 90s, each of whom had a history of chronic illness, and they died between Friday last week and Wednesday, CECC data showed.
Although the number of daily deaths has fluctuated, they are expected to decline, Centers for Disease Control Deputy Director-General Philip Lo (羅一鈞), who is deputy head of the CECC's medical response division, told a daily news briefing in Taipei.
The CECC would offer a summary on the situation in one week, he added.
The imported case is a Taiwanese woman in her 60s who arrived from Brazil on June 9, the center said.
She was quarantined at a centralized facility upon arrival and underwent a test for COVID-19 on Tuesday, before the end of her quarantine period, it said.
As she developed no symptoms while in Taiwan and did not come into contact with others during her quarantine, no contacts had been identified, it added.
As of yesterday, Taiwan had recorded 14,389 confirmed cases of COVID-19, including 1,167 imported and 13,169 domestic cases, with 605 deaths, CECC data showed.
Of the deaths, 597 were from local infections, while eight were imported cases, the center said.
Of the 12,958 confirmed COVID-19 cases recorded from May 11 to Tuesday, 9,288 people, or 71.7 percent, had been released from isolation, the center said.
From April 20 to Wednesday, 625 students were confirmed to have COVID-19, up from 622 on Tuesday, according to Ministry of Education data.
Of the cases recorded after April 20, 2,444 people, or 18.5 percent, had severe pneumonia or acute respiratory distress syndrome, Lo said.
Of the 4,572 cases reported in people aged 60 or older, 1,639, or 35.8 percent, have been severe, he added.
Separately yesterday, Taipei Mayor Ko Wen-je (柯文哲) said that while cluster infections linked to markets affiliated with the Taipei Agricultural Products Marketing Co (TAPMC, 台北農產運銷) continue, the city government is bringing it under control.
Of the 4,933 people related to the clusters who have received a rapid test, 15 tested positive, but only four also tested positive through polymerase chain reaction (PCR) testing, he said.
The cluster "is not as bad as you all think," Ko said, adding that there have been many false positives.
As PCR capacity improves, it would gradually be used for initial testing, especially for large-scale cases like TAPMC, he said.
Officials are still working to control the cluster, Ko added, urging people with symptoms to be tested.
More than 1,700 vaccine doses have already been administered at markets run by TAPMC, Taipei Deputy Mayor Vivian Huang (黃珊珊) said.
The figure is expected to surpass 4,000 today, she added.
Meanwhile, New Taipei City Mayor Hou You-yi (侯友宜) said that nine of the city's 54 new cases yesterday were linked to the TAPMC clusters.
The additions bring the total in New Taipei City to 38 linked to TAPMC, in addition to three cases linked to Huannan Market in Taipei's Wanhua District (萬華) and one linked to the Second Fruit and Vegetable Wholesale Market in Taipei's Zhongshan District (中山).
Additional reporting by Cheng Ming-hsiang and Chou Hsiang-yun
新聞來源:TAIPEI TIMES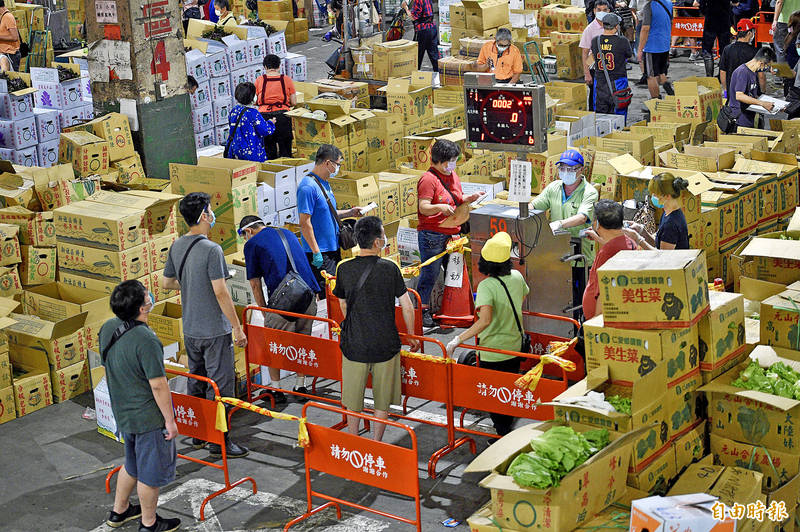 Vendors surround an auction podium at the Taipei First Wholesale Fruit and Vegetable Market yesterday. Photo: Lo Pei-der, Taipei Times