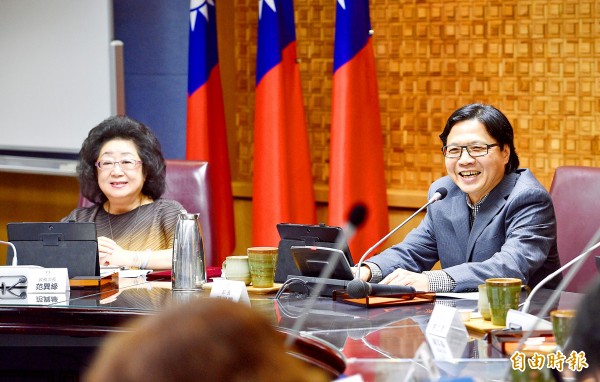 Minister of Education Yeh Jiunn-rong, right, congratulates Vice Minister of Education Fan Sun-lu, left, for taking up the post for the second time during a meeting at the ministry yesterday. Photo: Peter Lo, Taipei Times
2018-09-13 03:00:00
SECOND CHANCE: The ministry is not asking NTU to launch a brand-new election, but just to redo the flawed step, the minister of education told a news conference
By Ann Maxon / Staff reporter
The Ministry of Education yesterday instructed National Taiwan University (NTU) to re-elect a president from the five finalists of the previous election — including NTU finance professor Kuan Chung-ming (管中閔), whose election was rejected by the ministry in May — on the condition that the school decides whether Taiwan Mobile Co (台灣大哥大) vice president Richard Tsai (蔡明興) should be allowed to remain on the presidential election committee.
The ministry is not asking the university to launch an election from square one, but only to "redo the step found to be flawed," Minister of Education Yeh Jiunn-rong (葉俊榮) told a news conference at the ministry in Taipei.
The committee on Jan. 5 elected Kuan to be NTU president and he was originally scheduled to take office on Feb. 1, but the ministry on May 4 refused to approve his election on the grounds that there was a conflict of interest in the election process, as Kuan allegedly did not tell the committee that he was an independent member of Taiwan Mobile's board of directors, even though Tsai was on the election committee.
The university, a group of NTU students and Kuan have each filed an administrative appeal requesting that the ministry honor the election results and appoint him.
A report issued by the Judicial Yuan on Aug. 16 concluded that Kuan had contravened the Act Governing the Appointment of Educators (教育人員任用條例) in his capacity at Taiwan Mobile, and that he and Tsai had each failed to disclose the conflict of interest prior to the election.
When the ministry requested a re-election in May, it did not specify how it should be conducted and the summer break has made it difficult for the election committee to meet to resolve the controversy, Yeh said.
"Now that school has begun, things should be different. The committee should convene a meeting to address the concerns raised by the ministry and the Control Yuan, and officially respond to them," he said.
The committee must first determine whether to remove Tsai or have him refrain from voting, and then relaunch the final round of the election with the same five candidates, he said.
The candidates were Kuan, Institute of Atomic and Molecular Sciences director Chou Mei-yin (周美吟), Administrative Affairs vice president and physics professor Chang Ching-ray (張慶瑞), Graduate Institute of Networking and Multimedia professor Chen Ming-hsien (陳銘憲) and history professor Chen Jo-shui (陳弱水).
If NTU refuses to cooperate, the ministry would formally respond to the administrative appeal by Oct. 3, he said, adding that he hopes to avoid a lawsuit, because it might affect the university's stability.
"Only by ensuring fairness can presidential elections be considered legitimate. I hope that there will be no more hesitation from either side, because the nation's administrative procedures, which are essential to the rule of law, must not be further compromised," Yeh said.
新聞來源:TAIPEI TIMES