《TAIPEI TIMES》 Taipei candidates' platforms rely on vote buying: Ko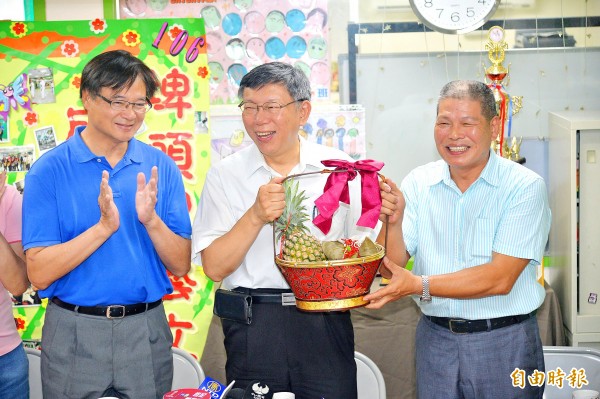 Taipei Mayor Ko Wen-je, second right, is yesterday presented with a pineapple and zongzi rice dumpling gift basket during a visit to Pitou District Borough Warden Lin Ming-ching, right, in Taipei's Zhongshan District. Photo: CNA
2018/06/19 03:00
'RANDOM PROMISES': The KMT and DPP candidates have both vowed to reinstate a subsidy to wealthier residents, and the DPP's Pasuya Yao has promised free transport
By Lee I-chia / Staff reporter
With Chinese Nationalist Party (KMT) and Democratic Progressive Party (DPP) Taipei mayoral candidates both vowing to restore the Double Ninth Festival cash subsidy for elderly residents if they win November's election, Taipei Mayor Ko Wen-je (柯文哲) yesterday said the promises consitute vote-buying and would ultimately cost taxpayers.
Ko in 2016 implemented a policy to exclude wealthy and middle-income elderly residents from receiving the annual Double Ninth Festival cash subsidy, saving the Taipei City Government about NT$700 million (US$23.33 million) a year, but also resulting in a significant drop in his popularity.
The money saved would be used to systematically improve the city's social welfare facilities and services, he said at the time.
However, KMT Taipei mayoral candidate Ting Shou-chung (丁守中) criticized Ko's policies for helping the city's elderly residents as "out of balance," because only a small number of elderly people benefit from meal-sharing and other programs.
DPP Taipei mayoral candidate Pasuya Yao (姚文智) yesterday said that many elderly people have difficulty going outdoors and therefore cannot use the Elderly Card introduced by Ko, adding that the mayor's Stone Soup Project and meal-sharing services only benefit a very small proportion of elderly Taipei residents.
Visiting borough wardens in Zhongshan District (中山) yesterday, Ko said that he does not want Taipei to become a concrete jungle in which people stay in their apartments and do not know their neighbors.
The Garden City project aims to encourage people to plant vegetables together and meal-sharing locations for elderly residents create connections between people, resulting in communities taking care of communities, Ko said.
"The subsidy is a test of the rational thinking of Taiwanese society, because it is very effective as a means of vote-buying," Ko said, adding that if local governments make such promises and spend taxpayers' money, then financial discipline and debt repayment targets cannot be achieved.
He asked whether political figures who "randomly make promises as if bidding at auctions" have really thought about where the money comes from and have considered the careful planning that is needed to implement policies such as making the one-month "all-pass" ticket for unlimited public transportation use in Taipei and New Taipei City free.
Yao has said that the NT$1,280 price of the monthly pass is too high and that it should be free
Ko's administration has also spent too much on social housing and the the city government could have implemented its policies by spending less than 10 percent of current expenditure, Yao said.
新聞來源:TAIPEI TIMES