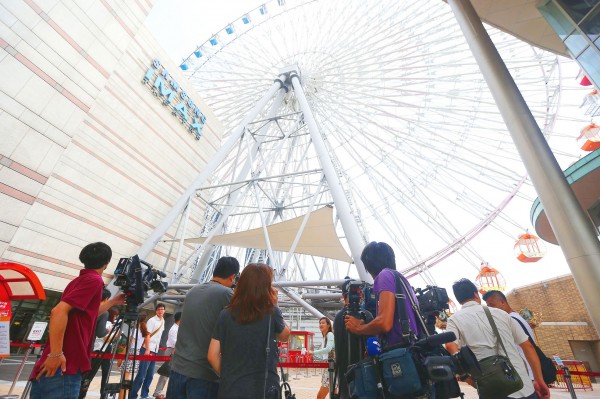 Reporters mill about below the ferris wheel at Miramar Entertainment Park in Taipei's Dazhi area yesterday after the wheel stopped for about an hour due to strong winds. Photo: CNA
2015/06/28 03:00
By Wang Kuan-jen and Jake Chung / Staff reporter, with staff writer
Sixteen passengers were yesterday trapped in ferris wheel carriages at the Miramar Entertainment Park in Taipei's Dazhi area (大直) for about 30 minutes due to the system detecting high wind speeds, the Miramar complex said.
Park general manager Hsieh Chia-han (謝佳翰) said the system automatically shut off the supply of electricity to the attraction, as gusts of wind reaching 15 on the Beaufort wind force scale were detected.
The ride's eight security systems had to be restarted manually, Hsieh said.
The ferris wheel has 48 carriages, which have a maximum capacity of six people each, Hsieh said.
Each carriage has four sets of double security locks that connect to the main structure, Hsieh said.
The carriages lock to the main structure if wind speeds reach 15 on the Beaufort scale, Hsieh added.
Taiwan uses an extended Beaufort scale that has a maximum reading of 17.
A reading of 15 indicates wind speeds of 167kph to 183kph.
The complex said that while separate equipment recorded gusts reaching only 10 on the scale, there must have been wind shear that reached 15.
"We contacted our engineers and safely brought down all of the passengers within an hour," Hsieh said.
The Taipei City Fire Department said that it had been called to the scene, but the park's management had things under control, adding that it stood by to offer support.
The department said that the sudden halt on the ferris wheel was due to the safety measures kicking in and was not due to a malfunction.
Taiwan Power Co (台電) said that circuits and electricity supply in the area showed no abnormalities.
Miramar said that it had returned all the fares paid by people caught up in the incident and collected the names of those who were trapped to give them free tickets.
Operations resumed after management inspected the ferris wheel and were certain of no further safety concerns.(Additional reporting by CNA)
新聞來源:TAIPEI TIMES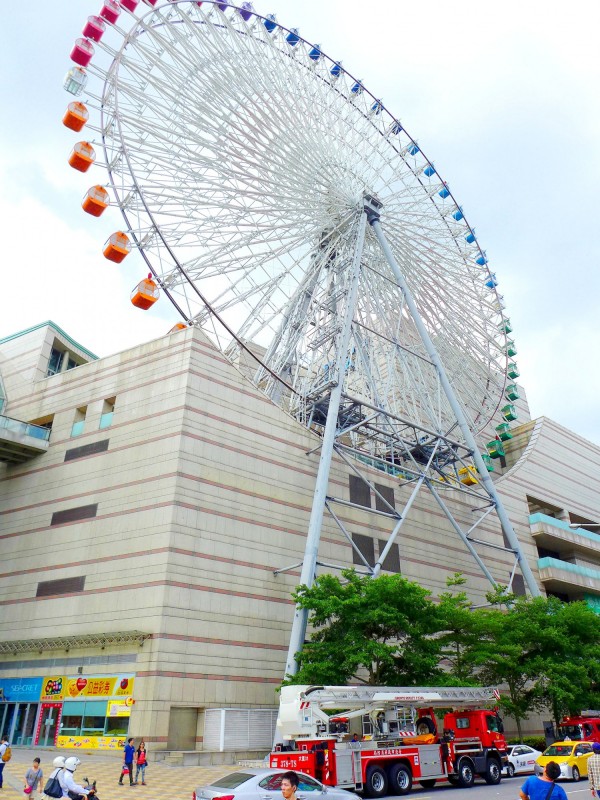 A fire engine waits below the ferris wheel at Miramar Entertainment Park in Taipei's Dazhi area yesterday after the wheel stopped for about an hour due to strong winds. Photo: CNA