《TAIPEI TIMES 焦點》 TSU takes a crack at M503 protest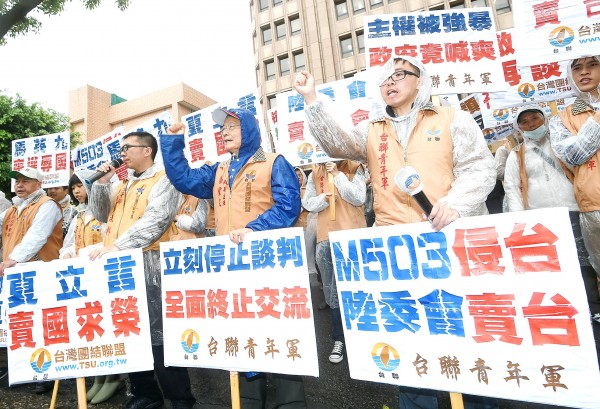 Members of Taiwan Solidarity Union yesterday protest at the Mainland Affairs Council building in Taipei against China's use of its M503 flight route. Photo: Fang Pin-chao, Taipei Times
2015-03-24 03:00:00
By Loa Iok-sin / Staff reporter
Members of the Taiwan Solidarity Union (TSU) yesterday staged an egg-tossing demonstration outside the Mainland Affairs Council (MAC) building in Taipei, protesting the council's acceptance of China's decision to start using the controversial M503 flight route and urging the council to suspend cross-strait talks.
In the rain, protesters mobilized by the TSU held up signs accusing President Ma Ying-jeou (馬英九) and MAC Minister Andrew Hsia (夏立言) of treason.
Participants said they were protesting what they called the government's "soft" reaction to China's decision to use the M503 flight route.
"The stormy weather is a good representation of the situation that Taiwan currently faces," TSU Department of Organization director Tsai Feng-wen (蔡豐文) said. "Ma's government not only silently agreed to China's unilateral designation of the M503 air route despite its threat to Taiwan's national security, but it even consented to China's decision to inaugurate the flight route on Sunday."
Tsai said the middle line in the Taiwan Strait is the de facto boundary between Taiwan and China, but the council is unable to do anything when China threatens the boundary.
"The MAC therefore deserves to be called the traitors' council," Tsai said.
He was referring to a commercial air route that runs close to the median line of the Taiwan Strait that China unilaterally designated in January.
Triggering a strong reaction from opposition parties and the public, the council protested to China, which responded by saying it would move the air route to the west by 6 nautical miles (11km) and postpone bringing it into service.
Although Hsia told the Legislative Yuan that he was not satisfied with China's decision, when China announced that it would begin using the flight route last week, the council said that it had been informed of the final decision and that it consented to it.
TSU Department of Youth Affairs director Chang Chao-lin (張兆林) said the government's consent to China's decision shows that its earlier remarks that it would negotiate further with China on the issue were lies.
"The people of Taiwan will not accept the inauguration of the M503 route. The TSU strongly demands that the MAC decline to accept such a humiliating decision and ask China to void the flight route," Chang said. "Until China removes the flight route, all cross-strait talks should be suspended."
After asking that Hsia come out to meet with them and receive the group's petition, the crowd threw eggs at the council building when a low-ranking official with no authority to answer questions or make decisions was sent instead.
Minor clashes between police officers and the protesters followed.
Chang was later arrested for taking the lead in tossing the eggs.
新聞來源:TAIPEI TIMES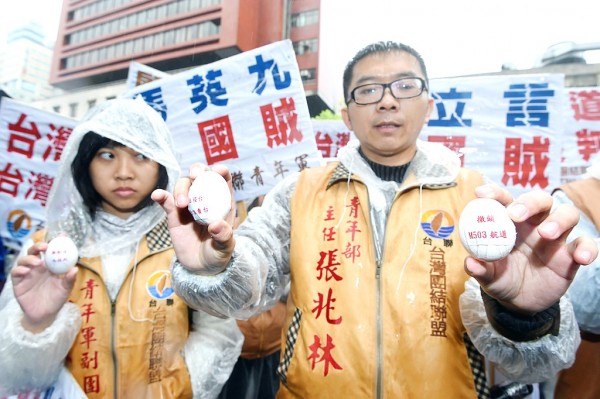 Members of the Taiwan Solidarity Union yesterday show eggs they brought to throw at the Mainland Affairs Council building in Taipei, as they protest against China's opening of the M503 flight route. Photo: Fang Pin-chao, Taipei Times