《TAIPEI TIMES 焦點》 Tsai open to cooperative options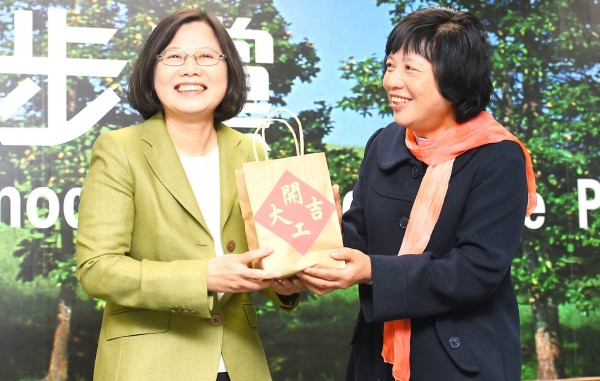 Peng Hsiu-chun, right, widow of Chang Sen-wen, who owned the Chang Pharmacy that was demolished in the Dapu Incident in Miaoli County, presents Democratic Progressive Party (DPP) Chairperson Tsai Ing-wen with homemade ginger sugar at the DPP's Taipei headquarters yesterday, the first working day of the new lunar year. Photo: Chang Chia-ming, Taipei Times
2015/02/25 03:00
By Chen Wei-han / Staff writer, with CNA
A coalition of Democratic Progressive Party (DPP) and grassroots reformists could be formed in the legislature, DPP Chairperson Tsai Ing-wen (蔡英文) said yesterday amid the emergence of a new party in the political landscape, adding that the DPP holds an open attitude toward any possible allegiance.
Amid the launch of a flurry of small political parties, Hung Tzu-yung (洪慈庸), sister of the army corporal Hung Chung-chiu (洪仲丘), whose death sparked a series of protests against military abuse in 2013, yesterday said that she would run in the next year's legislative elections under the banner of the newly founded New Power Party (NPP) following Freddy Lim (林昶佐), the vocalist for heavy metal band Chthonic and a founding member of the NPP, who announced his candidacy on Sunday.
The DPP's major objective this year is to unite as many progressive reformists as possible in the legislature and to table a list of viable candidates, Tsai said, adding that the DPP would not rule out the possibility of a coalition with non-DPP candidates who could win the public's approval.
Asked whether forming a coalition would decentralize the DPP, Tsai said that while the ideal scenario is for the DPP to steer reforms in the legislature, the party would be willing to cooperate with other progressive forces to achieve a legislative majority.
At the DPP's Lunar New Year gathering yesterday, Tsai, the only candidate in the party's primary for next year's presidential election, was also asked to comment on what were generally perceived as her two major challenges in the election, expected to take place in January next year — the party's narratives on cross-strait relations and Taiwan-US relations.
Tsai said that the challenges she faces stretch beyond the two issues, adding that the DPP would face a series of comprehensive overhauls in economic and societal structures.
Tsai did not confirm reports that she would visit the US as soon as April.
While former president Lee Teng-hui (李登輝) said that he would facilitate talks on constitutional reforms between Tsai and Chinese Nationalist Party (KMT) Chairman and New Taipei City Mayor Eric Chu (朱立倫) as well as the leaders of other parties after the Lunar New Year holiday, Tsai said that such talks have not yet taken place.
The DPP defined this year as a "preparatory year before comprehensive reforms" and identified four priorities, including revitalizing the economy, drafting legislation in line with social equality and justice, solidifying Taiwanese democracy and working on constitutional reforms, she said.
新聞來源:TAIPEI TIMES