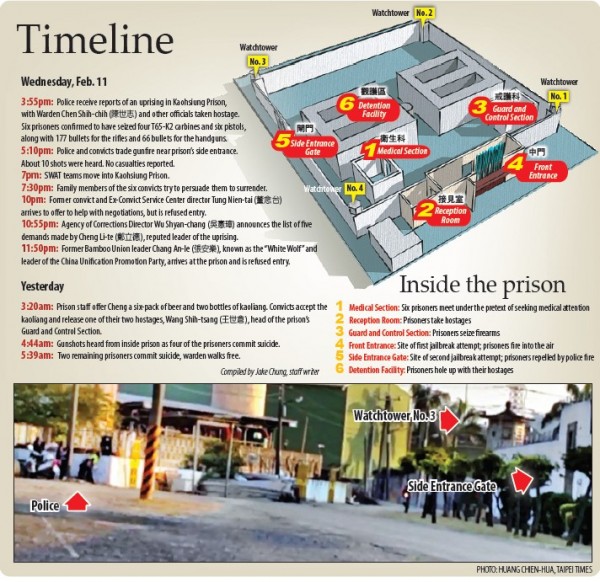 2015/02/13 12:54
WEDNESDAY, FEB. 11
3:10pm: Six prisoners to the Kaohsiung Prison's medical facility on the pretext of seeking treatment.
3:30pm: The six head to the reception room, take three guards hostages and headed to the Guard and Control Section area.
3:55pm: Police receive reports of an uprising in the prison, with Warden Chen Shih-chih (陳世志) and Wang Shih-tsang (王世倉), head of the Guard and Control Section, held hostage after exchanging themselves for the three guards seized earlier. The prisoners confirmed to have taken four T65-K2 carbines and six pistols, along with 177 bullets for the rifles and 66 bullets for the handguns.
4.14pm: The prisoners attempt to flee through the front entrance of the prison, but are repelled by gunfire from local police precinct officers.
5:10pm: The group heads to the prison's side entrance, but are rebuffed by police in an exchange of gunfire.
7pm: SWAT teams move into Kaohsiung Prison.
7:30pm: Family members of the six prisoners try to persuade them to surrender.
10pm: Former convict and Ex-Convict Service Center director Tung Nien-tai (董念台) arrives to offer to help with negotiations, but is refused entry.
10:55pm: Agency of Corrections Director Wu Shyan-chang (吳憲璋) announces the list of five demands made by Cheng Li-te (鄭立德), reputed leader of the uprising.
11:50pm: Former Bamboo Union leader Chang An-le (張安樂), known as the "White Wolf" and leader of the China Unification Promotion Party, arrives at the prison and is refused entry.
YESTERDAY
3:20am: Prison staff offer Cheng Li-te a six-pack of beer and two bottles of kaoliang. The prisoners accept the kaoliang
3:23am: Hostage Wang Shih-tsang (王世倉) is released.
4:43am: The prisoners open fire as they attempt to flee through the side entrance, police fire back.
5am: Four prisoners commit suicide.
5:36am: The two remaining prisoners commit suicide, Warden Chen Shih-chih walks free.
This information was updated after it was first published.
INSIDE THE PRISON
1 Medical Section: Six prisoners meet under the pretext of seeking medical attention
2 Reception Room: Prisoners take hostages
3 Guard and Control Section: Prisoners seize firearms
4 Front Entrance: Site of first jailbreak attempt
5 Side Entrance Gate: Site of second and third jailbreak attempts
6 Detention Facility: Prisoners hole up with their hostages
Compiled by staff writers
新聞來源:TAIPEI TIMES