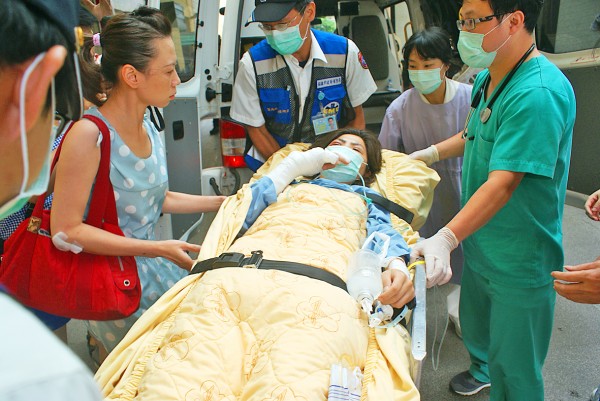 Hung Yu-ting (洪郁婷) had only a few minutes to act after TransAsia Airways Flight GE222 crashed in rain and darkness on the outlying island county of Penghu on Wednesday evening. The 34-year-old's quick thinking — with a touch of luck — is what made her one of just 10 survivors among the 58 people on the plane involved in the nation's worst civil aviation crash in recent memory, her father, Hung Chang-ming, said yesterday. Hung Yu-ting was sitting near a wing in row 12 when the turboprop twin-engine ATR 72 smashed into the ground outside Magong Airport following a botched landing attempt in typhoon weather. She was initially trapped by the seat in front of her, but managed to push her way free and crawled to safety though a hole in the plane's hull that happened to be near where she was seated, her father said. "She crawled out from the plane, went across to someone's house at No. 56 and c
2014/07/25 03:00
Staff writer, with CNA
Hung Yu-ting (洪郁婷) had only a few minutes to act after TransAsia Airways Flight GE222 crashed in rain and darkness on the outlying island county of Penghu on Wednesday evening.
The 34-year-old's quick thinking — with a touch of luck — is what made her one of just 10 survivors among the 58 people on the plane involved in the nation's worst civil aviation crash in recent memory, her father, Hung Chang-ming, said yesterday.
Hung Yu-ting was sitting near a wing in row 12 when the turboprop twin-engine ATR 72 smashed into the ground outside Magong Airport following a botched landing attempt in typhoon weather.
She was initially trapped by the seat in front of her, but managed to push her way free and crawled to safety though a hole in the plane's hull that happened to be near where she was seated, her father said.
"She crawled out from the plane, went across to someone's house at No. 56 and called me at home," he told reporters.
"She said weakly into the phone: 'The plane crashed.' She told me the location of the crash," he said.
Hung Chang-ming, who lives just a few hundred meters from where the plane crashed in Sisi Village (西溪), rushed over immediately to find his daughter.
There, he said, he helped pull a man from the wreckage and worked alongside others to try and put out the fire that was engulfing the plane.
Hung Yu-ting sustained inhalation burns and burns to her back and both of her legs. She is hospitalized, but her life is not in danger.
The younger Hung works at a Ministry of Labor employment service station in Penghu. She was flying back home after a meeting she was supposed to attend in Greater Kaohsiung on Taiwan proper was canceled due to Typhoon Matmo.
While some are embracing their loved ones who survived the nation's deadliest air traffic accident in 12 years, most families of people on the flight are grieving for their loved ones.
Media footage showed family members shouting, wailing and dropping to the floor upon receiving the bad news.
Chen Ya-ni, a Penghu student who was in Greater Kaohsiung to track the efficacy of her cancer treatment, was among the 48 killed in the crash.
A former teacher, Chang Lan-hsin, said she is shocked and deeply saddened to hear about the news. She described Chen as a hardworking and courteous student.
Flight 222 carried 54 passengers and four crew members from Greater Kaohsiung to Penghu when it crashed at 7:06pm.
新聞來源:TAIPEI TIMES